Choppy Copter has an interesting place in my software development career. I had recently closed a software startup. I had prepared for the day, so it wasn't the worst thing that could have happened. It was a sad day, but it also turned a page in my life story. I had enough money to last me 6 months. The first thing that comes to mind is, lets find a new job! It shouldn't take more than 6 months. So, the first thing I started to do was code my resume for my future job. Yes, code my resume. It took me 5 months, but 5 months later I had a resume that proved I could accomplish a few things:
Take an idea from conception to production
Manage time and resources
Engineer not just a piece of software, but an engaging ecosystem inside of software
Create terrible artwork 🙂
Self motivate
Learn a new programming language/framework/ideology when necessary (objective c, spritekit, game update loop, customer engagement)
What I had was Choppy Copter!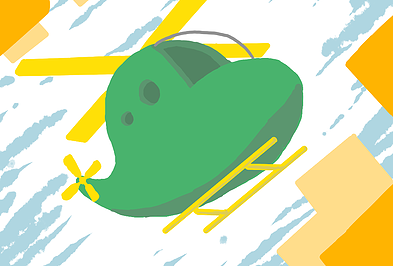 – Choppy Copter –
Fly through the ever changing cave system of Choppy Copter avoiding oncoming obstacles to become the best aircraft pilot of your time!
Collect power ups by squeezing through the smallest areas of the cave system. Be careful, you never know what you are going to get. Shrink, grow, get lighter, heavier or get gold and silver coins from power ups.

Use the coins you collect or purchase to get new aircraft, terrain, backgrounds, and badges. These allow you to completely customize your gaming experience! See how you compare to the rest of the world on Game Center with built in leader-boards.
I have tried to keep this project updated over the years. Bug fixes and standard game play improvements have been made. A new more detailed 'Chopper' section now exists that adds storyline and specific information about each type of chopper. Choppy Copter also saw some Apple TV action with a multiplayer update that brought head to head challenges to the big screen. You and your friends can all connect your phones to the Apple TV to all play together!